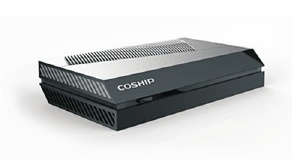 The main chip of N9201 product is up to 1GHz, the processing capacity is 2000DMIPS, and it fully complies with the DVB-C standard. It can integrate various mainstream CA systems such as Yongxin Tongfang, and support home network sharing, middleware, embedded browser and various two-way services. 2D graphics processing, rich multimedia applications.
Coship Electronics join hands with CCBN to gather in 2017
---
Vision integration, wisdom enjoy the future
- Coship Electronics and CCBN gathered together in 2017

CCBN2017 with the theme of "Vision Integration, Smart Future" will be held in Beijing on March 23-25. As Shenzhen Coship Electronics Co., Ltd., which has served the radio and television industry for 23 years, this time it will bring the industry's leading The overall smart home solution and business ecology of the company appeared at the booth of the International Pavilion. As a provider of mature smart home solutions and services, Tongzhou Electronics has participated in CCBN for many consecutive years. This exhibition will comprehensively present a variety of products that integrate radio and television development and intelligence in the industry!
As a leader in industry innovation, the contents of this exhibition of Cozhou Electronics include the industry-leading full-service smart platform, VOD interactive platform, smart community platform, big data platform, MOUI management platform, deep EGP system, business mixed scheduling system, On the basis of a series of products and services such as message engine system, terminal software intelligent upgrade system, intelligent advertising system, full-service monitoring platform, digital home intelligent terminal, digital TV all-in-one machine, etc., we will show you the latest technology of Coship Electronics smart home integration platform. Products and businesses, which cover ecological businesses in video, education, games, home finance, home security, home medical care, etc., as well as new products such as interactive live broadcast platforms, VR/panorama business platforms, and new integrated intelligent terminals, will enable You have fully experienced the convenience that intelligence, interconnection, materialization, integration, and integration can bring to users, and hope to work with you to promote the convergence and sharing of industry resources, and provide global users with leading smart home products and Serve.
2017 is an important year for the implementation of the "13th Five-Year Plan" development plan, and it is also a key year for Coship Electronics to innovate and win the future. Shenzhen Coship Electronics Co., Ltd. is based on radio and television, aiming to serve the market with innovative technologies, products and models, and bring the ultimate experience to radio, television and users. During the same period of CCBN2017, Tongzhou Electronics is looking forward to bringing new ideas based on industry strategy development to industry audiences and old and new friends! On the CCBN booth, Coship Electronics will create a home smart full-service platform experience area, allowing customers to be on the scene and enjoy the convenient life brought by Coship products. We look forward to your visit to booth 1B302, we will bring you wonderful solutions of Coship Electronics!