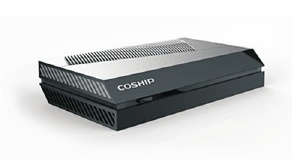 The main chip of N9201 product is up to 1GHz, the processing capacity is 2000DMIPS, and it fully complies with the DVB-C standard. It can integrate various mainstream CA systems such as Yongxin Tongfang, and support home network sharing, middleware, embedded browser and various two-way services. 2D graphics processing, rich multimedia applications.
Alibaba Cloud IoT Division Visits Coship: From Internet of Everything to Intelligent Connection of Everything
---
Recently, Mr. Liu Huan, general manager of Alibaba Cloud IoT Regional Business Department, and his party visited Tongzhou headquarters and held talks on the direction of IoT business and big data.
With the rapid development of the Internet of Things today, Alibaba Cloud IoT has built the industry's most complete cloud integration enabling platform, built the most abundant IoT market in the entire industry chain, and worked with partners to build the world's most open IoT standards. Tongzhou also launched the CoNET IoT platform solution this year and became the gold partner of Alibaba Cloud IoT Smart City. By accessing Alibaba Cloud's IoT market, Tongzhou will be able to provide more customers with one-stop services from products to solutions. At the same time, it will work with Alibaba Cloud IoT and more partners to build a complete smart city IoT ecosystem, and provide exploration and examples for the upgrade of cities from the Internet of Everything to the Intelligent Connection of Everything.
Tongzhou CoNET IoT platform solution is a smart platform for communities, streets and cities to realize smart transformation. It aims to help cities, communities and streets from informatization construction to digital management platform and urban IoT network. The CoNET IoT platform has a series of IoT solutions such as smart homes, smart buildings, smart parks and smart blocks, and provides customized services for customers in key solutions. So far, the platform has access to 110+ types of equipment and has developed ecological partners. 200+, has served more than 100 various enterprises and government customers.



On the one hand, CoNET can optimize the deployment and management of resources, and model, analyze, and visualize data. On the other hand, it provides customers with cloud-based resource connection optimization to create easy-to-deploy, more secure and stable IoT applications. Urban intelligence is a powerful tool to promote the transformation of urban development. Through the digitization, networking, and intelligence of urban management, deployment, and operation, a service system based on massive data collection, aggregation, and analysis is built to realize the extensive management of cities. Turn to intensive and refined management upgrades. The ultimate goal of Tongzhou CoNET is to make the Internet of Everything move towards the Intelligent Connection of Everything.
The cooperation between Tongzhou and Alibaba Cloud IoT on the IoT platform will help promote the strategic deployment of Tongzhou in the field of smart cities based on platform + market + standards, establish a smart city perception ecosystem, and help with the concept of win-win cooperation Build a new smart city.
Related news
undefined