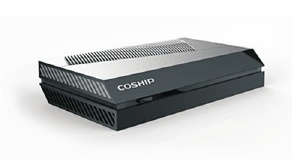 The main chip of N9201 product is up to 1GHz, the processing capacity is 2000DMIPS, and it fully complies with the DVB-C standard. It can integrate various mainstream CA systems such as Yongxin Tongfang, and support home network sharing, middleware, embedded browser and various two-way services. 2D graphics processing, rich multimedia applications.
Leaders of Shenzhen Tianwei Video Communication visited Coship for visit and guidance
---
On the morning of July 11th, Chairman Zheng Dingwen of Shenzhen Tianwei Video, General Manager of Mai Shangbao and management leaders visited Tongzhou for visit and guidance. Visit and study work.
The leaders of Tianwei Video first visited the exhibition hall of Tongzhou enterprises to gain an in-depth understanding of the current product layout of AI artificial intelligence and other products of Tongzhou. During the visit, the two parties fully exchanged views on topics such as smart broadcasting development and smart home.
Chairman Zheng Dingwen of Tianwei Video Co., Ltd. pointed out that in order to cope with the opportunities and challenges of radio and television under the wave of intelligence, it is necessary to strengthen the investment in technological innovation and the operation and maintenance of the whole process in the later stage. He also said that in the years of cooperation experience between Tianwei Video and Tongzhou, he believed that Tongzhou would become a strong partner of Tianwei Video in terms of technology, security risk prevention and new business growth points.
Tongzhou said that as a well-known enterprise with deep accumulation in the radio and television industry, Tongzhou will actively respond - insist on innovation, continuous research and development, take advantage of the opportunity of intelligent transformation of radio and television, keep pace with the times and join hands with Tianwei Video to develop new Opportunity to open up new business blue ocean. Tongzhou has the confidence and strength to provide strong support for customers in platform construction, iterative development, operation and maintenance, and provide zero-distance butler service for Tianwei Video, intimate companionship and common growth.
At the meeting, the leaders of Tianwei Video Communication expressed their affirmation and appreciation to Tongzhou in terms of innovative ideas, technology research and development investment, etc., and also expressed their gratitude to the cooperation results of the two parties for many years. "Cooperation and integration, seeking win-win" is the demand of the times in the face of the new wave of radio and television development, and it is also a "strong alliance" under the new situation of the two sides to create a new market situation. Under the environment, we will jointly develop a new blueprint for the future.
This visit has further consolidated the cornerstone of mutual trust between the two parties. In the future cooperation, the two parties will use innovation as the concept guide and technology as the market edge to jointly promote the intelligent transformation and implementation of radio and television.
Related news
undefined