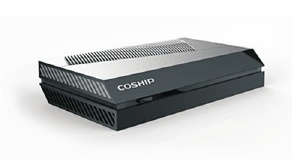 The main chip of N9201 product is up to 1GHz, the processing capacity is 2000DMIPS, and it fully complies with the DVB-C standard. It can integrate various mainstream CA systems such as Yongxin Tongfang, and support home network sharing, middleware, embedded browser and various two-way services. 2D graphics processing, rich multimedia applications.
Coship smart speakers "respond to one call", and voice interaction is popular again
---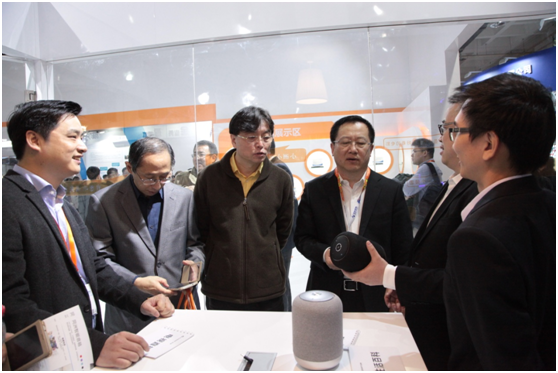 In recent years, artificial intelligence has developed rapidly, and hardware products with natural language technology as the main application are constantly being introduced. How to build a smart home ecosystem in this way has become the target of competition in many industries. As a leading enterprise in the radio and television industry, Tongzhou Electronics brought its own smart speaker products in the 26th China International Radio and Television Information Network Exhibition (CCBN2018), deeply rooted in its radio and television gene advantages, to build a smart home Ecology brings new trends and also draws new ecological guidelines for the development of radio and television.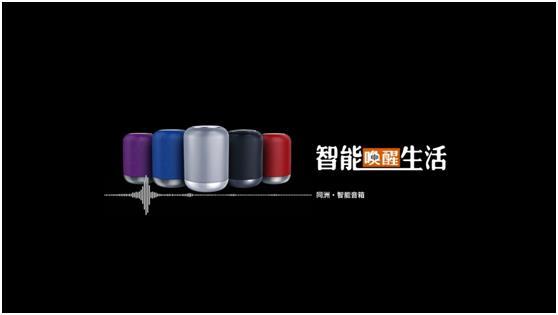 Tongzhou smart speaker debuts
As the first voice interactive hardware terminal product of Tongzhou, Tongzhou smart speaker taps user needs from subtleties, so that it can really make people feel "smart". Not only needs to be able to accurately complete simple voice commands, but also to have more autonomy, and gradually realize from "what I say and do" to "what I want to do". At the CCBN2018 held on March 22, the newly unveiled Tongzhou smart speaker demonstrated its powerful intelligent attributes of "one call and one hundred responses" and became the focus of the audience.
As the first smart home voice assistant of Tongzhou Electronics, it is not only your entertainment tool, but also your life assistant, home appliance housekeeper, TV remote control, and even an emotional partner. Provide users with active services from home appliances to life care experience, based on the smart home distributed interactive entrance matrix formed by smart speakers and terminal home appliances, so that users can truly realize interactive customization at any time in all scenarios of life, with the most comfortable and humanized experience wise life.
Three highlights to dominate CCBN2018
Aspect 1: Family entertainment, wisdom + fun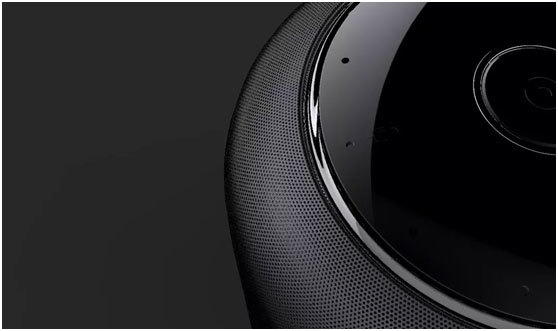 As the basic function of the speaker, Tongzhou smart speaker has made a more intelligent optimization in the control and playback of music. It can not only search for the music of a specific singer, such as "Xiaozhou Xiaozhou, play the ordinary road of Pushu", but also You can order a certain genre of songs, or even have it play songs you've never heard before, try it out. This design improves the user's convenience and humanization in the voice interaction scenario. Through the fuzzy search and data random functions, the user's entire search process is more natural and practical, avoiding annoying precise commands.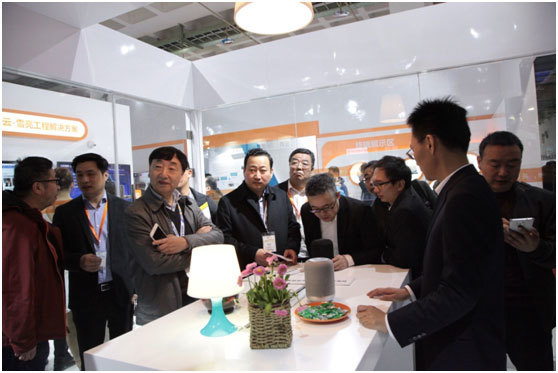 Of course, in addition to accessing music platforms, Tongzhou smart speakers also access third-party voice application platforms to provide content services such as audio books, children's songs, and cross talk. Make family entertainment more interesting and richer under the guidance of wisdom!
Aspect 2: Smart home control, think what you think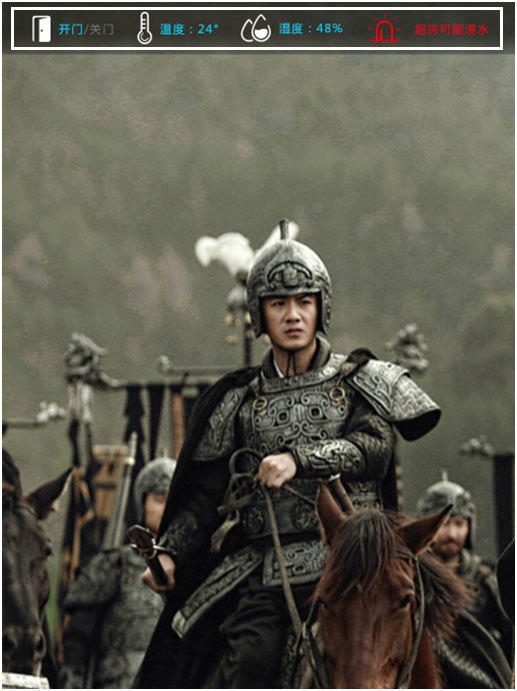 Home life is evolving in the direction of whole-house IoT and intelligent control. The control method is the cornerstone of home intelligence, and voice interaction has become the general trend. As a voice interaction carrier, Tongzhou smart speakers are the control center for building smart homes and smart devices, and the core of smart homes.
Relying on the concept of "moving the mouth" to enjoy a smart life, Tongzhou smart speakers are equipped with a complete solution at the beginning of the design, from the most affordable smart sockets to smart speakers for device control (such as: switching TVs on and off) etc.), to co-construction with the CoNET IoT platform opened by Tongzhou, which provides a way to promote the upgrade of home intelligence and meet the needs of different home users.
Tongzhou smart speakers support the access of mainstream smart home appliances in the market to achieve easy coverage. Just imagine how convenient it is to switch curtains, lights, sockets, sweeping robots, door sensors, etc. with just one command. According to statistics, the use of smart speakers to control home appliances can cumulatively help family members reduce 20,000 seconds of time spent doing housework throughout the year, and increase the entertainment time of watching 3 movies; and in terms of home security, it can be connected to temperature and humidity at the same time. Notification adjustment, intelligent alarm equipment, etc., to provide users with a safe and comfortable home environment.
Aspect 3: In addition to being able to see, expand the ability to "see"
Based on Tongzhou's profound technical strength and genes in the radio and television industry, Tongzhou's smart speakers are deeply combined with TV functions to expand the ability to "see", and at the same time, it is easier to display some information-rich scenes.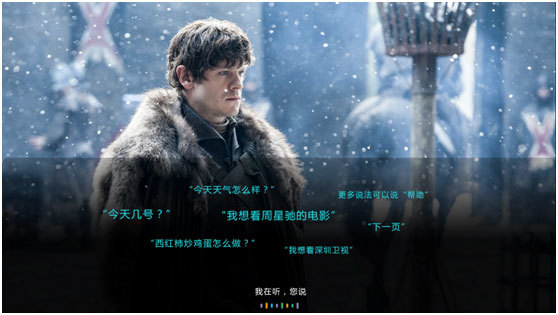 (Combined with TV to realize encyclopedia information exchange, richer graphic display interface)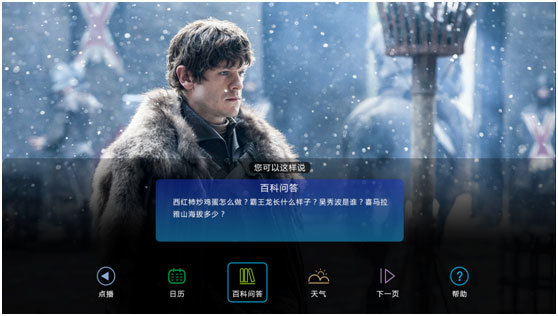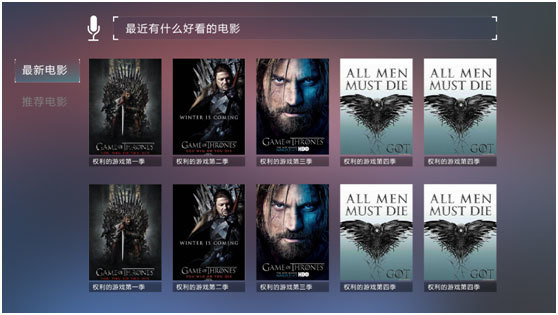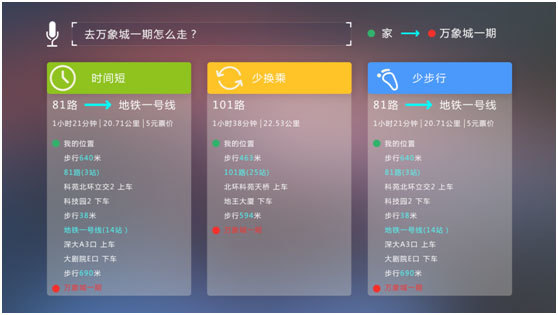 (Q&A, search, on-demand, weather, calendar, etc., visual display)
In addition to basic TV remote control functions, such as on-demand, pause, fast-forward, volume adjustment, etc. It is worth mentioning that Tongzhou smart speakers also support face recognition, location recognition, commodity recognition, etc. Among them, face recognition is to identify the actor information in the movie, and intelligently recommend it according to the actor information, so as to realize the optimized configuration of radio and television programs and meet the needs of users for retrieval and viewing; location recognition, that is, to identify the scenes in the movie, which is operated by radio and television. It provides feasible guidance for business operators to carry out customer gathering business, and access group customers such as tourism and hotels; product identification, that is, to identify and recommend the clothes worn by the characters in the film, the items used, etc., which can support links to online malls and expand the value-added of radio and television operators. business.
More black technology? It is worth looking forward to!
As the first smart speaker product of Tongzhou. It is reported that in the future, in the ecological construction layout of smart homes, more black technologies will be expanded to serve the vast number of home users and provide a model for the intelligent transformation of radio and television operators. It is believed that in the near future, adding a smart speaker in the living room will be a common choice for all families.
Related news
undefined