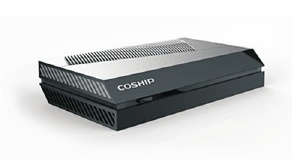 The main chip of N9201 product is up to 1GHz, the processing capacity is 2000DMIPS, and it fully complies with the DVB-C standard. It can integrate various mainstream CA systems such as Yongxin Tongfang, and support home network sharing, middleware, embedded browser and various two-way services. 2D graphics processing, rich multimedia applications.
Exploring the CCBN2019 Coship "Mystery Cabin", the whole house intelligent solution has become a new favorite!
---
The potential important starting point of smart radio and television is artificial intelligence, and smart home is one of the important landing points of smart radio and television. Applying AI to radio and television smart home will effectively improve the performance of existing TV business and future smart home business. Realize the "smartization" of radio and television. At CCBN2018, Tongzhou took Xiaozhou smart speakers as the entrance, and implemented the "Radio + AI" strategy in radio and television intelligence...
On March 21, 2019, the CCBN2019 exhibition came as scheduled. In the huge wave of AI and IoT, Tongzhou innovated and expanded the "Radio + AI + IOT" strategy, and took the lead in launching Xiaozhou-based intelligent voice butler as an important engine for the living room ecology . " Tongzhou Smart Home Whole House Smart Solution" . Through Xiaozhou Smart Voice Manager as the control center, it integrates the access gateway, data gateway and media network to create a new generation of smart living room ecology integration model innovation centered on users, driven by data and powered by AI.
On Tongzhou's booth, the "Mysterious Cabin" built to simulate the scale of a real home living room, with the interactive method of "moving the mouth", can immediately enjoy the smart home life, attracting an endless stream of visitors. Here, the whole-house smart solution of Tongzhou Smart Home with Xiaozhou Smart Voice Butler as the control center can not only help you manage home appliances, but also become your life assistant. Daily service information such as weather, entertainment, audio and video, etc., can be easily obtained by simply moving your mouth.
Tongzhou Smart Home Whole House Smart Solution integrates Xiaozhou Smart Voice Butler into the smart home ecosystem and provides a full-scene smart experience . While interacting with a variety of smart home appliances and devices, it breaks the traditional "fault" interaction between single information and scenes, realizes the connection between scenes and scenes, scenes and spaces, and collects feedback from home users through system linkage, so as to achieve new A generation of personalized and private customized smart home life experience.
In fact, what Tongzhou wants to invite guests to experience is the customization of smart home life . At present, there are many brands in the smart home industry, but few companies can produce a complete set of smart products. Basically, they do their own work. There is no unified standard and they are incompatible with each other, resulting in the lack of stability and coordination of products. To a certain extent, it restricts the implementation of smart home. The whole-house smart solution of Tongzhou Smart Home is integrating voice interaction, platform architecture technology and upstream and downstream merchant industry chains to create personalized smart home life for thousands of households in a customized way.
At present, the whole-house intelligent solution of Tongzhou Smart Home has been formed covering six spaces including the entrance, living room, bedroom, bathroom, kitchen, balcony, etc., including information, entertainment, air, water, security and other application solutions . While bringing a better smart life experience to users, it will inevitably accelerate the joint development of related upstream and downstream industries, and establish a good and sustainable smart home industry and ecology.
In the words of the on-site staff, in the era of IoT, smart homes are not uncommon, and voice interaction is not uncommon. And smart home solutions that can be customized and integrated throughout the house are the core values ​​of smart homes!
---
PS: The whole house intelligent solution of Tongzhou Smart Home is based on the Xiaozhou intelligent voice butler as the control center. Through quick access to smart door locks, smart cameras, human infrared sensors, door and window sensors, smart curtain motors, emergency buttons, smart smoke detectors , smart air sensors, water immersion sensors, temperature and humidity sensors, smart CO sensors, smart PM2.5 sensors and other smart devices, as well as connected smart switches, smart sockets, smart infrared transponders and other transformed traditional home appliances and new smart home appliances equipment to provide users with smart home IoT solutions such as smart lighting systems, home appliance control systems, smart window systems, and smart environment systems.
Related news
undefined